It's finally out. Intua Beatmaker 3 is now available on the Apple appstore for iPad. BM 3 is a further development of the best known Beatmaker 2 app and includes many new features, improvements and a complete new intuitive interface. Features like AudioUnit support, an advanced and improved sampler and a scene mode like in Ableton Live or Bitwig, Beatmaker 3 brings a massive music production to the iOS system. It brings unmatched efficiency and depth in an intuitive audio and MIDI workstation. Look no further, the power of traditional desktop software and real hardware is now united into one single production studio.
Available here: BeatMaker 3
Play, Perform, Record 
Its streamlined workflow lets you perform and shape your ideas quickly and effectively, turning your instruments into full productions. Inspirational performance tools such as repeat, roll, swing, key scales & chords and macro controls will boost your creativity tenfold. Take control of it all with your MIDI gear and the new smart binding system.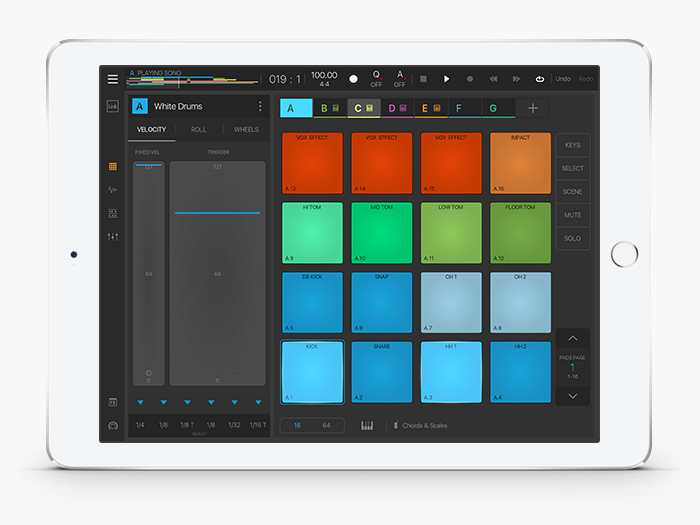 Craft your own instruments 
8 banks of 128 pads, where each one of them is a full-fledged instrument with multiple dimensions.  Record and chop live, assemble, mangle and resample: our state of the art sampling engine will sculpt your ideas, giving life to your instruments with a full modulation and layering system. With ZPlane's Elastique live stretch and pitch shift, adjust your loops and instruments to match the tempo or go experimental. You can even integrate your favorite synth & effect apps with full AUv3 and IAA support.
Precise Sequencing
The classic timeline based pattern & song editor gives all the modern sequencing features you'd want to arrange complete tracks. Adding to this foundation, the new flexible Scene Mode opens up opportunities for remixing and live performances, looping and arranging clips in new ways. All the patterns, automations and sequencing tools are available right where you would expect. Add audio tracks to the mix, stretch them, turn your arrangements into a complete masterpiece. You can even play in sync with other software using Ableton Link.
Inspiration Library
The ever growing sound store will bring premium and exclusive content to your own library. The genius of our sound designers will enhance your productions instantly, whether you're looking for a classic 808 bass or exploring new musical genres.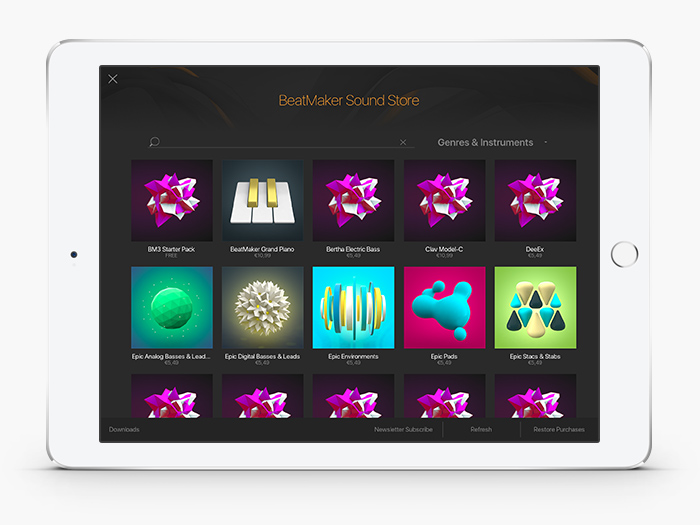 Full Fledged Mixer
Multi-channel recording & input/output routing is now a reality with the support of USB audio interfaces. Fine-tune your mix with the modern mixing board: every track, every pad has its own channel with unlimited effects and up to 8 sends. Add new depths to your sound with our palette of effects (internal or external AUv3/IAA).

Export & Share
Export your compositions and separated elements into single stems to share, re-use, re-work, re-master within a traditional studio setup.
Detailed specifications 
Studio
Create multiple instruments with Drum Machine, Keyboard Sampler, Audio Tracks
12 effects included: Reverb, Compressor, Filter, Delay, Stereo Delay, EQ, Flanger, Chorus, AutoPan, BitCrusher, Overdrive, 6-Band Parametric EQ
3 effect slots for each instrument
CoreMIDI support: connect your MIDI accessories to control instruments, effects and mixer.
Drum Machine 
128 trigger pads: 16 pads over 8 banks
Chop Lab: Slice audio loops to automatically create new sound presets
Control sound parameters on individual pad: volume, pan, mute, output bus, semitone, fine tune, reverse and autoscaling
Low/high pass filter per pad
Pad trigger modes: one-shot, hold & loop
ADSR Envelope ADSR control for each pad
Exclusive groups and polyphony management
"Live" modes: trigger, mute, reverse, velocity and tune spreading.
Pad copy & paste
Keyboard Sampler 
128-key keyboard with pitch wheel, double keyboard mode, note display and zoom controls
Easily create your own instruments from any sample combination with the keygroup editor
Volume and filter ADSR envelopes
Low/high pass filter with key tracking
2 LFOs to control volume, pitch and filter parameters
Polyphony control, up to 32 voices
Legato play mode with glide
Velocity layers
Audio Tracks 
Add audio tracks for recording and sample playback directly on the sequencer
Record multiple audio tracks simultaneously
Gain and noise gate on audio inputs
Support for disk streaming to load samples without consuming RAM
Multi-Track Sequencer 
Create unlimited instrument, audio and FX tracks
Automations: Record, edit and replay instrument and effect parameters
Record, draw, arrange and resize patterns along the timeline to build your song
Compose and modify patterns with a piano-roll interface. Edit notes, parameters and automations.
Instrument and effect recording options: Quantize, take or partial undo, pre-roll, Overdub, note erasing.
Sample Editor 
Full-fledged wave editor with intuitive interface for manipulating samples
Basic edition tools: trim, cut, copy, paste, with undo/redo
High quality time-stretching and pitch-shifting algorithms
Audio tools: normalize, silence, reverse, fade in and out, cross-fade
Record new samples from microphone or instruments
Loop points and tempo/signature editor
Mixer Console
Realistic multi-track mixer with level meters
Edit volume, pan, solo, mute and bus routing features for each track
Four sends available for each instrument/audio tracks
Rich Sound Bank included
Shipped with a 650+MB sound bank with drum and keyboard presets in various genres
Sharing & Global Options
Native iPad & iPhone/iPod Touch interfaces, Retina display
MIDI files import/export
MIDI Out, Sync, Thru support
Virtual MIDI support
Korg's WIST support
Transfer files from/to your computer via iTunes or FTP
Import songs from your iPod library to create new remixes
Upload songs to your SoundCloud account
DropBox support
Share audio content via iOS pasteboard
Intua Beatmaker 3 is now available for an introduction price of $19.99 USD /21.99 € until 22nd July 2017
Available here: BeatMaker 3